What does SCADA mean and what does it stand for?
SCADA is an abbreviation for Supervisory Control and Data Acquisition. A SCADA-system is a control system used to control, regulate and monitor facilities. These facilities could be for waste water, processing or manufacturing facilities. SCADA exchanges information across PLCs, computers, servers and HMI-displays. The system provides an overview of the current operational status of a facility. Use of the system and monitoring happens through a graphic interface, available on computers and HMI-displays, which are small screens for decentralized control of installations. Read more about HMI here.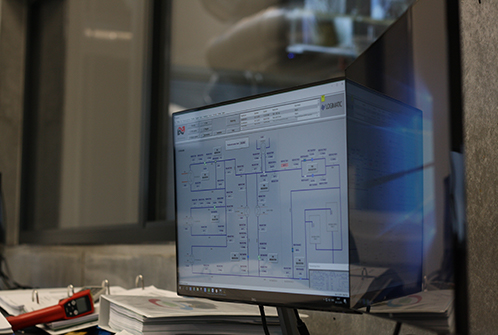 What does a SCADA-system do and how does it work?
A SCADA-system collects and displays data about the operation, at its core it is monitoring operations. The data collection is used for controlling, regulating and monitoring the facility using, for example, alarm history, signal errors, trend curves and reports. For the operating staff it is essential to have access to live and historical data to ensure an optimal operation. At Logimatic, a central part of our work is to ensure that data is shown correctly and in such a way that creates simplicity and supports the different screens available in the system.
Want to get in touch with a SCADA specialist?
At Logimatic we have a strong team of SCADA specialists. We can handle a large variety of different SCADA-systems and have the competencies for adjusting existing systems. We also have specialists within SCADA-programming, if you need a tailored solution. Contact us if you have questions or are facing challenges, we can help you solve them. Our goal is your satisfaction. Find our contact details here.
How to create simple and manageable screens in SCADA-systems
When creating screens, we base our work on the ISA-101 standard. It is a design standard which supports a clear graphic overview, ensuring ease of operations for the staff and making troubleshooting as easy as possible. To support troubleshooting, Logimatic offers the system NAMS. NAMS is a system for proactive monitoring of operations, which can be integrated in SCADA. The system monitors, for example, server performance, harddrive health and network bottlenecks. A well-functioning SCADA requires a good it- or ot-network.
What is a SCADA system used for?
A SCADA-system is a part of the operations facility. From the SCADA-system regulation and monitoring of signals can be carried out. This could be temperature, pressure, flow, speed etc. Furthermore, these values can create trends, which can be used in monitoring values based on data. SCADA-systems are available in different sizes and with differing capabilities depending on the complexity of needed controls.
A SCADA-system handles minor as well as major processes in the operation and is not limited by distance or number of panels and computers the system is implemented on.
Where are SCADA-systems used?
SCADA-systems are used for controlling, regulating and monitoring in many different industries such as the maritime and the supply industry. Within the supply industry Logimatic are specialized in heating, waste water, clean water and manufacturing.
Read more about automation for the maritime sector here
At Logimatic we design SCADA-systems for any operation. We value creating flexible solutions, ensuring are customers are not limited by neither hardware or software. Together we can create the best possible solution.
Read more about SCADA for the supply industry here
Which SCADA-systems exists? Who manufactures SCADA-systems?
Here you will find a list of select SCADA-systems we service at Logimatic. If you wish to learn more about the pros and cons of the different systems, do not hesitate to contact us. If you cant find your current or desired SCADA solution on the list, contact us and we can help you find the right specialist. Contact us here.
Schneider Electric manufactures the SCADA-system IGSS.
Siemens manufactures the SCADA-system SIMATIC WinCC.
GE Digital manufactures the SCADA-system iFix.
Inductive Automation manufactures Ignition Scada.
Logimatic also creates control systems for the maritime sector. Read more about our IPMS system.
Logimatic develops software and automations. SCADA is often used in automation solutions.
This article aims to explain what a SCADA-system is and where it is used. It explains some of the software and hardware we work with to create solutions within automation. Perhaps you do not know about SCADA or PLC, but hopefully after reading this article you will have learned something new about automation and what SCADA is. We hope you enjoyed the content and it can serve as a SCADA-wiki for you.
Want to know more about what Logimatic can offer you within SCADA? Contact us!
We hope you have learned more about what a SCADA is. Want to know more SCADA or need consultancy on the optimization of SCADA? Reach out to us!