News overview
LOGIMATICs explanation – what is a PLC?
What is a PLC and what does PLC stand for?
PLC is short for Programmable Logic Controller. It is a programmable unit, a tiny computer specifically developed for automating and controlling a certain process, known as process management. It could for example be for the opening and closing of a valve, managing temperatures, or controlling flow and pressure in different scenarios. The PLC completes tasks based on predefined triggers, such as time or other occurrences and can complete many different tasks. Differing from a regular PC, the PLC has several in and out terminals. The predecessor to the PLC was mechanical relays and the controlling of these. These solutions required a lot of space and were extensive and complicated to make changes to. The PLC instead, consists of small digital relays or transistors programmed with software, rather than having to make changes to physical connections as was the case when mechanical relays were in use. It takes up less space and the controlling are much easier to manage and adapt to changes than the mechanical solution.
At Logimatic we develop software and automation solutions. PLCs are often used in automation solutions for SCADA systems and SRO.
This article aims to explain what a PLC is and how this unit is used. This is the explanation for some of the hardware we work with to find solutions in automation. Maybe you don't know about PLCs or what a Programmable Logic Controller is exactly, but hopefully you will have learned more about automations and PLCs after reading this article.
How does a PLC work?
A PLC, in simple terms, functions by activating predetermined exit terminals known as outputs based on signals received by the PLC from the input terminals. An example of this could be a valve having to be opened and closed. If you hit a certain button an engine will open the valve – press the same button again and the valve will close. This process will often be controlled by one or multiple factors such as censors or other digital signals. In SCADA a limit value or set points will be created, determining when the PLC should perform the programmed actions – for example, the opening and closing of a valve.
The size of the PLC
PLCs come in many different sizes. Small PLCs can be as tiny as a set of playing cards, whereas the big PLCs are mounted in racks and are usually four times the size. The physical size of a PLC is not necessarily a determining factor in how powerful a PLC is.
When talking about the size of PLC it is more often the number of I/O's, meaning the number of inputs/outputs and the processing power of the PLC being discussed, rather than the physical size. Micro PLCs can have up to 128 I/Os and 2 KB of memory, the biggest PLCs can have more than 2048 I/O's and up to 750 KB of memory.
Even though PLCs are digital units, they still make use of analog I/O. These are used for controlling, regulating, and collecting historical data. Examples of analog input could be flow, level, pressure, or weight measurements.
Where is a PLC used?
PLCs are used in many different industries and environments. Depending on where the PLC will be used and what is required in terms of uptime, processing power or other demands, there are different types and levels of certifications for PLCs. Marine, offshore, personal transport, food, medicinal or safety are examples of areas that require something different from the PLC. In Logimatic, we deliver PLC and programming for all industries, tailored to our customers' demands. Contact us today if you wish to talk about your next project – we can assist as advisors, programmers, or project managers – both on an hourly basis or at a fixed cost. You'll find our contact information here:
Contact
There are many different producers of PLC, and which one is chosen is often dependent on what purpose the PLC serves. Where it is to be used and what has formerly been used are often factors, given that the customer might have spare parts for a certain type or certain procedures in place for working with PLCs.
PLC – Programs and programming
At Logimatic we deliver PLC programming and PLCs globally. That is why we are also trained and certified to program and handle a long list of different manufacturers' PLCs. No matter the size of the job we deliver solutions of high quality, from the starting phase to delivery and support after delivering.
You can contact us to hear more about how we together can optimize your PLC programming, SCADA system, HMI interface and automation system. Contact Per Ghodt or Bo Eckhardt for more information. We look forward to hearing from you! Use the contact formula at the bottom of this page or find your contact here: https://www.logimatic.com/contact/
For what industries does LOGIMATIC create solutions using PLCs?
The short answer is any industry we have experience in. The primary industries for Logimatic are: Maritime, being a supplier to the Danish Navy, the supply industry; Logimatic is a supplier in the sewage, clean water, energy and heat productions. For companies in manufacturing, we have delivered SRO and automation solutions, Mess-systems, SCADA and PLC programming.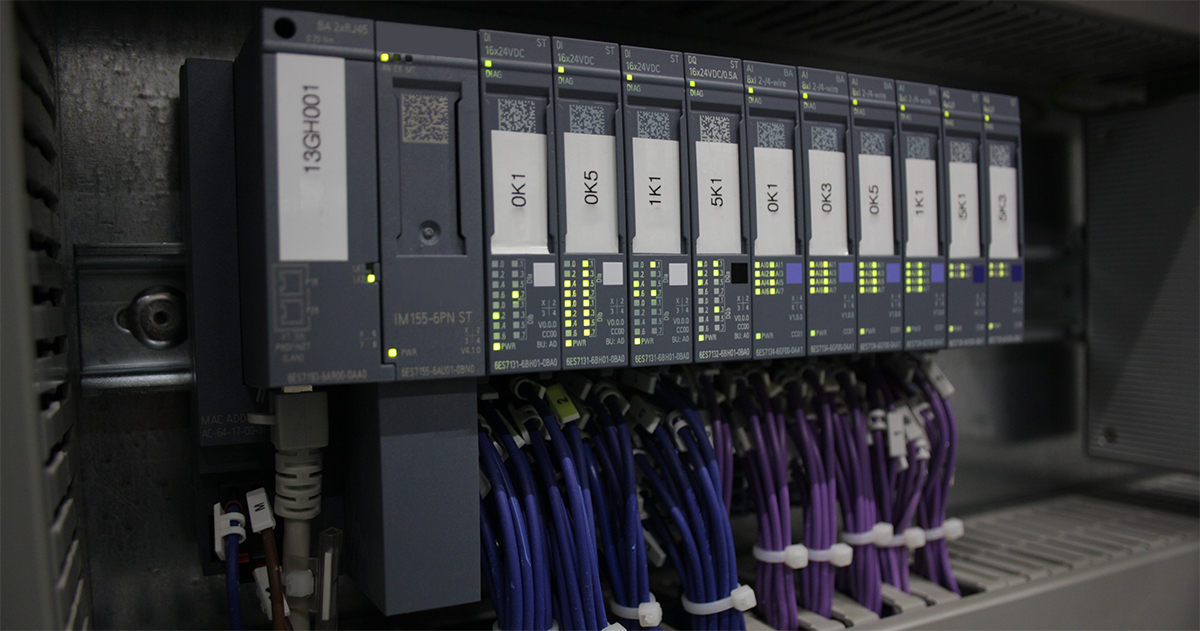 Who manufactures PLCs?
There are many manufacturers of PLCs. Here at LOGIMATIC we mostly make use of:
Schneider Electric PLC https://www.se.com/ww/en/product-category/3900-plc-pac-and-dedicated-controllers/ Siemens PLC https://new.siemens.com/global/en/products/automation/systems/industrial/plc.html Rockwell Allen Bradley PLC https://www.rockwellautomation.com/en-us/products/hardware/allen-bradley/programmable-controllers.html ABB PLC https://new.abb.com/plc/programmable-logic-controllers-plcs
Hopefully, you've now learned something new about what a PLC is!
Thank you for your interest!
Contact us below.