Jøtul AS is one of the world's leading manufacturers of stoves, inserts and fireplaces. The company has its factory and warehouse in Fredrikstad in Norway. Jøtul's factory and warehouse were in two separate locations. It went without saying that this implied substantial extra coordination, unnecessary handling, extra transport, and extra use of time.
Jøtul's goal was to maintain production in Norway. This required greater streamlining of procedures and processes. The warehouse was one area, where there was potential to make significant improvements.
The warehouse and control situation before
The existing warehouse was a huge, manual warehouse with permanent locations and old-fashioned paper pick lists that were printed from Lawson M3. The warehouse was staffed with 38 warehouse workers in the high season (August-February) and 27 warehouse workers in the low season. The work in the warehouse included searching for the right goods and administrative work in the shape of paper picking list reporting and was very time-consuming. Performance-wise the warehouse had a picking efficiency of about 50 order lines per day per person and an error rate of 0.5%.
The realisation of Jøtul's goal required many changes to the warehouse situation. The first major move was to eliminate the excessive handling that was associated with the two separate sites. Within the warehouse, there was a need for increased efficiency, but this required more than simply running faster.
Major warehouse project
Jøtul initiated a major warehouse project, which involved merging the warehouse with the factory on the actual factory site and optimising all processes in the warehouse. The latter meant investing in new technology in the form of a specialised warehouse control machine and the introduction of automation.
They built a huge, 10,000-m2 warehouse equipped with storage for intermediate goods for production, storage for end products, and a shipping area.
The new warehouse comprises the following manual and automatic areas:
• 10 vertical storage lifts
• Pallet storage with 1,376 locations
• Mobile shelves with 5,328 locations
• Block stacking storage with 356 locations
• Goods reception
• Packaging and shipping area
The entire warehouse is controlled by the LOGIA WMS warehouse management system.
WMS with integration to M3
One of Jøtul's crucial points in the warehouse project was to have a specialised warehouse management system, which could be fully integrated with their M3 ERP system. They chose LOGIA WMS, which has a default interface for M3.
In an interview with the Norwegian magazine Moderne Transport, Jøtul said:
"Jøtul has also introduced Logimatic's Warehouse Management System. Among other things, the Logia WMS software controls storage machines and other warehouse activities. We previously had a general ERP system (Lawson M3). In other words, a system that "can be used for everything, but which is not particularly good at anything." We have a completely different level of control now. The integration of Logia WMS with Lawson M3 went well after the usual teething troubles were dealt with. Logimatic was not the cheapest software we could have chosen, but it scored very well on user interface, which was crucial for us."
The warehouse management system controls the entire warehouse, from goods reception to shipping. All locations, products, staff, hours, orders etc. are managed and implemented using LOGIA WMS. The system guarantees that the capacity, in terms of the vertical storage lifts and manual storage areas, is put to the very best use – both in relation to storage space and the efficiency of placing and picking. LOGIA WMS also ensures excellent flow throughout the entire warehouse.
Picking efficiency increased by 30%
Parallel picking takes place in the various storage areas. This provides excellent flow in the warehouse, and picking efficiency has increased by 30%, while the error rate has dropped to 0.1%. The increase in efficiency is the result of a rethinking of all Jøtul's processes: elimination of unnecessary handling; good systematisation and control of all warehouse processes; and the introduction of automation in the form of vertical warehouse lifts.
LOGIA manages and divides the orders into the three storage areas (vertical storage lifts, pallet storage and mobile shelving), so orders can be picked in parallel. After picking, LOGIA WMS controls the consolidation of the orders prior to shipping.
The picking routes have been optimised, so jobs get done as efficiently as possible. All transactions are scanned and recorded, so errors are detected during the process and corrected.
All warehouse employees are online on LOGIA WMS. Regardless of where someone works in the warehouse, s/he is guided by LOGIA WMS and everyone has access to relevant information. All employees report back on an on-going basis in LOGIA WMS. That means that the current status of the warehouse and the progress of the day's orders are constantly visible.
Vertical storage lifts incl. picking carts
The vertical storage lifts constitute the most efficient aspect of the warehouse. The lifts deal with all small items for production and sale – a total of about 6,500 locations.
Previously, several warehouse employees worked all day long, picking small items. Today, one man takes care of picking all small items from the 10 vertical storage lifts. The picks in the vertical storage lifts are assembled and executed in 1-2 picking rounds per day. On most days, picking orders in the lifts can generally be carried out in 3-4 hours.
The vertical storage lifts are equipped with touch screens and 'Pick-to-light' displays to streamline the picking and eliminate sources of errors. The automatic storage and retrieval area is also equipped with specially developed mobile picking carts, which can contain 12 order boxes. They are equipped with 'Put-to-light' displays and touch screens. Picked goods are consolidated into a batch of up to 12 orders at a time, after which the goods are distributed to order boxes on the picking cart. This saves on a lot of small picking tasks and unnecessary steps between the machine and the picking cart.
VMI warehouse for subcontractors
Jøtul is in charge of a VMI warehouse for some of their subcontractors. Subcontractors own the goods until they are picked for Jøtul's customer or manufacturing orders. Only when a VMI warehouse item is picked does it get transferred to Jøtul's stock.
The VMI stocked items are stored together with Jøtul's other range, and in the actual picking process there is no difference between picking a regular stocked item or a VMI stocked item. A picker neither knows nor notices when s/he is picking VMI goods.
Planning and overview
Good planning and good overview are the key words for a well-run warehouse. Jøtul's warehouse manager makes very active use of the LOGIA WMS planning module. Orders are prioritised according to shipping date or manufacturing date and then made available for activation.
The warehouse manager can constantly see the progress of the orders and when the picking is likely to be completed with the current staffing and activity level. That means it is easy to re-allocate resources and ensure that orders are ready for shipment at the correct time.
Serial number management
Jøtul needs to be able to track the finished products that have been delivered. All finished products have serial numbers. During picking, the serial numbers are recorded on the orders in question. That means that an item can always be traced back to the dealer, to whom Jøtul delivered it and the production batch the item was manufactured in.
Registration is done by scanning the item's bar code. The data is stored in LOGIA WMS, which also sends a copy of the information on to M3.
Online and simple information
LOGIA WMS has a visual interface that is very intuitive and simple to understand and learn. The simple communication ensures a minimum of errors. At the same time, it provides great flexibility in the warehouse. You can easily switch between and vary tasks. Relevant information is displayed on the screen, while all jobs and feedback take place directly in LOGIA WMS as part of the work process. It is simple and easy, and it replaces paper picking lists and the subsequent reporting.
Det var Jøtuls mål at bevare produktionen i Norge. Dette krævede et øget fokus på effektivisering af forretningsgange og processer. Lageret var et område, hvor der var mulighed for at skabe betydelige forbedringer.
Lagersituationen før
Det eksisterende lager var et stort manuelt lager med faste lokationer og gammeldags papirplukkelister, der blev printet fra Lawson M3. Lageret var bemandet med henholdsvis 38 lagermedarbejdere i højsæsonen (august -februar) og 27 lagermedarbejdere i lavsæsonen. Arbejdet på lageret var præget af en del søgetid efter rette varer og administrativt arbejde i form af afrapportering af papirplukkelister. Lagerets performance lå på en plukkeeffektivitet på ca. 50 ordrelinjer pr. dag pr. person og en fejlprocent på 0,5%.
Realisering af Jøtuls mål krævede mange ændringer af lagersituationen. Den første store post var at eliminere de mange ekstra håndteringer, der var forbundet med de to adskilte sites. Internt på lageret skulle effektiviteten øges markant, hvilket ikke kunne praktiseres ved blot at løbe hurtigere.
Stort lagerprojekt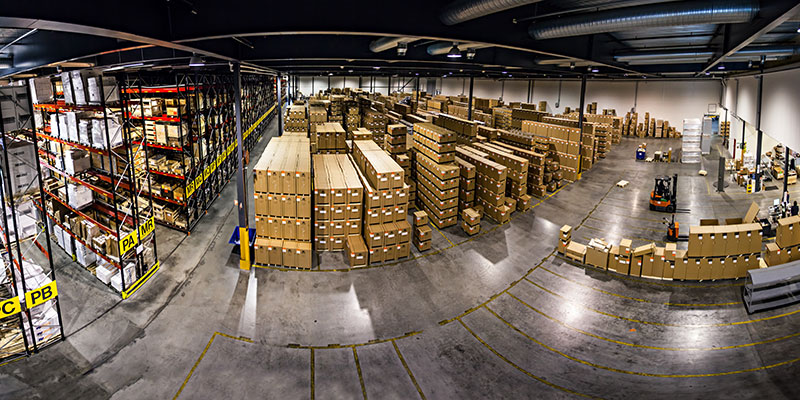 Jøtul igangsatte et stort lagerprojekt, som gik på at smelte lageret sammen med produktionen på selve produktionssitet og at optimere på alle processer på lageret. Sidstnævnte krævede investering i ny lagerteknologi i form af et specialiseret lagerstyringssystem og indførelse af automation.
En stor lagerbygning på 10.000 m2 blev opført og indrettet med lager for mellemvarer til produktion samt færdigvarelager og forsendelsesområde.

Det nye lager omfatter følgende manuelle og automatiske lagerområder:
• 10 lagerautomater
• pallelager med 1376 lokationer
• mobile reoler med 5328 lokationer
• blokstablingslager med 356 lok.
• varemodtagelse
• pakke- og forsendelsesområde

Hele lageret styres af lagerstyringssystemet LOGIA.
WMS med integration til M3
Et af Jøtuls kardinalpunkter i forbindelse med lagerprojektet var, at de skulle have et specialiseret lagerstyringssystem, som kunne integreres fuldt ud med deres ERP-system M3. Valget faldt på LOGIA, som har standard interface til M3.
Jøtul har udtalt følgende til det norske magasin 'Moderne Transport':

"Jøtul har også innført lagerstyringssystem, Warehouse Management System, fra Logimatic. Det er blant annet denne softwaren, LOGIA, som styrer lagerautomatene og resten av lageraktiviteten. – Tidligere har vi hatt et generelt ERP system (Lawson M3). Med andre ord et system som «kan brukes til alt, men som ikke er spesielt godt til noe». Vi har en helt annen kontroll nå. Integrasjonen mellom LOGIA og Lawson M3 har gått bra etter at de sedvanlige «barnesykdommene» er unnagjort. – Logimatic var ikke den billigste softwaren vi kunne valgt, men de scoret veldig bra på brukergrensesnittet. Det var avgjørende for oss."
Lagerstyringssystemet styrer hele lageret fra varemodtagelse til forsendelse. Alle lokationer, varer, medarbejdere, timer, ordrer, og meget mere bliver styret og gennemført ved hjælp af LOGIA. Systemet sikrer, at kapaciteten i henholdsvis lagerautomaterne og de manuelle lagerområder udnyttes bedst muligt – både hvad angår lagerpladsen og effektiviteten ved indlagring og pluk. Derudover sikrer LOGIA et godt flow på hele lageret.
Plukkeeffektivitet øget med 30%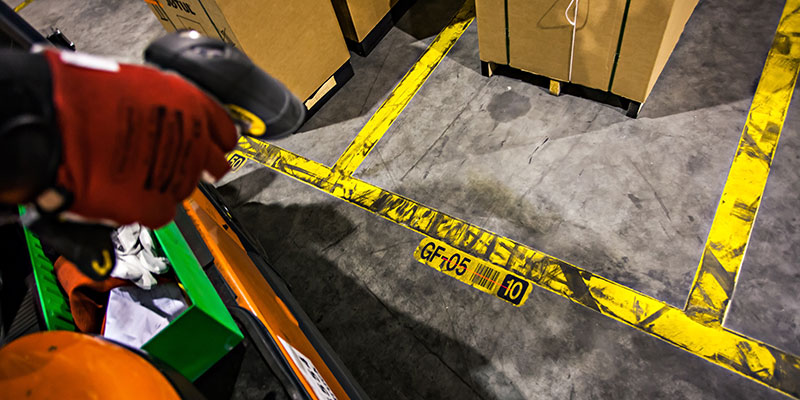 Der plukkes parallelt i de forskellige lagerområder. Det giver et godt flow på lageret og plukkeeffektiviteten er øget med 30%, mens fejlprocenten er faldet til 0,1%. Stigningen i effektiviteten er muliggjort som følge af en gentænkning af alle Jøtuls processer, eliminering af unødvendige håndteringer, god systematisering og styring af alle lagerprocesser samt indførelse af automation i form af lagerautomater.

LOGIA styrer og deler ordrerne op i de tre lagerområder (lagerautomater, pallelager og mobile reoler), så ordrerne kan plukkes parallelt. Efter pluk styrer LOGIA konsolideringen af ordrerne inden forsendelse.
Plukkeruterne er optimeret, så jobbene afvikles så effektivt som muligt. Alle transaktioner scannes og registreres så fejl opdages i processen og korrigeres.
Alle lagermedarbejdere er online på LOGIA. Uanset hvor man arbejder på lageret, bliver man guidet af LOGIA og man har adgang til relevant information. Alle medarbejdere tilbagemelder løbende i LOGIA. Det bevirker, at man hele tiden kan se den aktuelle status på lageret og fremdriften på dagens ordrer.
Lagerautomater incl. plukkevogne
Lagerautomaterne udgør lagerets absolutte højeffektivitetsområde. Automaterne rummer alle småvarer til produktion og salg – i alt ca. 6500 lokationer.
Tidligere var flere lagermedarbejdere beskæftiget dagen lang med at plukke småvarer. I dag varetager én mand pluk af alle småvarer fra de 10 lagerautomater. Plukkene i lagerautomaterne samles og afvikles i 1-2 plukkerunder om dagen. De fleste dage kan plukkeordrer i automaterne gennemføres på samlet set 3-4 timer.
Lagerautomaterne er udstyret med touch-skærme og 'Pick-to-light'-displays for at effektivisere pluk og eliminere fejlkilder. Derudover er lagerautomatområdet udstyret med specialudviklede mobile plukkevogne, som kan indeholde 12 ordrekasser og er udstyret med 'Put-to-light'-displays og en touchskærm. Der plukkes samlet til en batch på op til 12 ordrer ad gangen, hvorefter varerne fordeles til ordrekasserne på plukkevognen. Det sparer en masse småpluk og unødvendige skridt mellem automaten og plukkevognen.
VMI-lager for underleverandører
Jøtul varetager VMI-lager for nogle af deres underleverandører. Underleverandører ejer varerne indtil de bliver plukket til Jøtuls kunde- eller produktionsordrer. Først når en VMI-lagervare plukkes overgår den til Jøtuls beholdning.
VMI-lagervarerne lagres kaotisk sammen med Jøtuls øvrige sortiment og i selve plukkeprocessen er der ingen forskel på, om der plukkes en almindelig lagervare eller en VMI-lagervare. Plukkeren hverken ved eller mærker, hvornår der plukkes VMI-varer.
Planlægning og overblik
God planlægning og godt overblik er nøgleordene for et veldrevet lager. Lagerchefen hos Jøtul bruger planlægningsmodulet i LOGIA meget aktivt. Ordrene bliver prioriteret efter forsendelsestidspunkt eller produktionstidspunkt og derefter gjort tilgængelige for aktivering.
Lagerchefen kan løbende se status på, hvor langt ordrerne er og hvornår de kan forventes at være færdigplukket med den aktuelle bemanding og aktivitetsniveau. På den måde er det let at re-allokere ressourcer og sikre, at ordrerne er klar til forsendelse til rette tid.
Serienummerstyring
Jøtul har behov for at kunne spore de leverede færdigvarer. Alle færdigvarer har serienumre og i forbindelse med pluk registreres serienumrene på de pågældende ordrer. Det betyder, at en vare altid kan spores tilbage til, hvilken forhandler Jøtul har leveret varen til og hvilket produktionsbatch varen er fremstillet i.
Registreringen sker via scanning af varens stregkode. Dataene gemmes i LOGIA, som også sender en kopi af informationen videre til M3.
Online og enkel information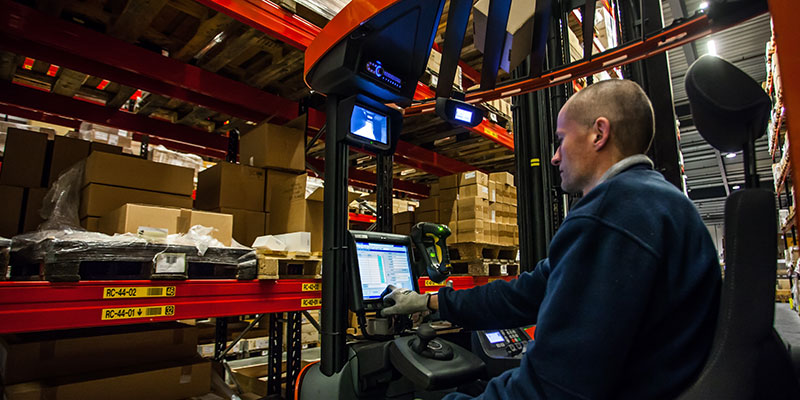 LOGIA har en visuel brugerflade, som er meget intuitiv og enkel at forstå og lære. Den enkle kommunikation sikrer et minimum af fejl. Samtidig giver den mulighed for stor fleksibilitet på lageret. Man kan let skifte mellem og variere arbejdsopgaverne. Relevant information bliver præsenteret på skærmen lige som alle jobs og tilbagemeldinger foregår direkte i LOGIA som en del af arbejdsprocessen. Det er let og enkelt og erstatter papirplukkelister og den efterfølgende afrapportering.